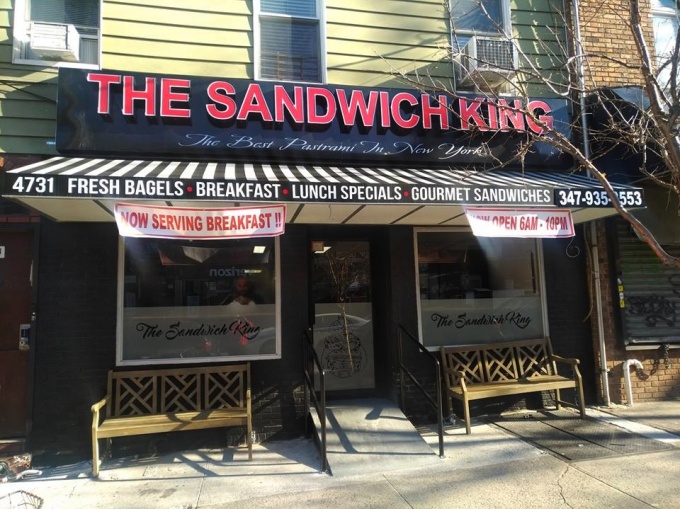 Jan. 29, 2019, Sponsored Story

The king has finally been given the clear to open his castle.
The Sandwich King, a gourmet sandwich shop located at 47-31 Vernon Blvd., opened earlier this month after waiting more than six months for the Buildings Department to give them the OK after a gas leak was discovered in the building last year.
Nick Giovanniello, the owner, said that he is excited to finally be open after initially planning to start serving customers in May. He said the wait proved costly, as his perishable food items went bad and monthly bills still kept coming in.
The shop opened on Jan. 10 and is offering a mix of hefty traditional and gourmet sandwiches made with everything one would find in a deli. A popular sandwich, he said, is the pastrami on rye with mustard.
Sandwiches at the 20-seat venue—formerly the home of the Chinese restaurant New City Kitchen Express—cost between $9 to $15 on average.
Giovanniello says that he is now gearing up for Sunday — taking catering orders for the Superbowl—as many are requesting his hearty sandwiches for the big day.
The venue offers more than a dozen combinations of signature sandwiches that include: "The Legend," which consists of pastrami, corned beef, melted Swiss cheese and mustard; "The Bull," made with chicken cutlet, fresh mozzarella with vodka sauce on roasted garlic bread; and "The Williamsburg Windmill," comprised of homemade roast beef, roasted peppers, yellow American cheese, mayonnaise, lettuce and tomato, served on a hero bread.
Other food items that are served fresh by the order include Philly Cheese Steaks and the "King's Burger," that consists of a large beef patty infused with cheese and bacon bits.
Side items include Tater Tots, Chicken Tenders and Mozzarella Sticks. Giovanniello also serves "Bad Intention Fries," which consist of steak fries sprinkled with chopped chicken cutlet, bacon and covered in melted cheese.
Breakfast items such as BLT's are available seven days a week beginning at 6 am, with a variety of different bagels made on-site daily. Fresh muffins from Morrison's Pastries are also delivered to the shop.
A full catering menu is also available, with the shop offering 6-foot heroes, pasta dishes, and more for this Sunday's Superbowl.
Giovanniello said that many of the sandwiches are named in honor of family members who helped make the store a reality.
"The Legend is named after my father, 'The Bull' is what we call my brother Gary, and 'The Williamsburg Windmill' is what the media used to call my grandfather, who was a famous boxer from Williamsburg that fought under the name Danny Giovanelli," he said.
The Sandwich King is open from 6 a.m. to 10 p.m. Monday through Saturday, and on Sundays from 6 a.m. until a time yet to be determined.
The shop is now taking phone orders for delivery and will be available on GrubHub and Ubereats beginning Friday.
The official grand opening date is set for Feb. 1.
19 Comments
Click for Comments