Dec. 17, 2014 By Michael Florio
The beast is finally here.
The Beast Next Door, a neighborhood café and bar located in Court Square, is set to open its doors this Friday.
John Veenema, the owner, had hoped to open in August but it took him much longer to transform what was an old garage space into the café/bar.
The conversion of the 42-51 27th Street location was more complicated than he anticipated. He had to replace rusty beams, change the plumbing system, put in new wiring and install a new heating system.
He said the space had to be completely overhauled.
Veenema, who has a background in visual arts, also went to great length when he designed the interior of the café/bar.
Inside hangs an old chandelier and placed alongside the walls are old church pews–which are to be used as benches. Meanwhile, the tables are made out of salvaged pallets and timber from an old wooden prison door.
The café/bar also features a raised area toward the back of the establishment that serves as a seating area at times and as an area for live music.
Along the back wall there is a woodcut Turkish-design mural that Veenema made himself.
"The bar will be elegant and have a romantic feel," Veenema said. "I want people to feel comfortable here, to have a conversation, and for people to get to know one another."
The Court Square café/bar has room for about 75 people, and while there won't be sidewalk seating there will be French-style doors that will open up to the street.
"It will feel like you are outside on nice days," Veenema said.
Veenema is expecting about 50 people to attend the grand opening party at 7pm this Friday. He has hired a band for the occasion that plays '80s style rock music.
Veenema hosted a soft opening last Saturday that was attended by friends, family and neighbors.
"We had a great turnout," he said. "People really enjoyed the environment and liked the lighting and furniture. They felt it was a comfortable and nice place to hang out."
The menu will consist of combination plates, which will include Italian cured meats and French cheeses–served with bread, slices of fruit and nuts. There will also be sandwiches, salads and pastries.
"We want to serve high quality food items," Veenema said. "There will be no fried food served here."
To drink, Veenema said he will be offering four beers on tap, which will consist of Rockaway Brewing Company's Original ESB, Allagash White, Sixpoint Brewery's The Crisp, and Bell's Two Hearted Ale.
There will also be wine and liquor.
This is Veenema's first bar. However, he has industry experience having worked at Block Star, a Manhattan bar that has since closed.
Veenema, who is originally from Canada, has lived in Court Square for the past five years—after living in Manhattan for more than a decade.
Veenema has long wanted to open a café/bar in Long Island City and initially checked out the Hunters Point area.
However, he said Court Square was a better option.
He said that the Court Square section of Long Island City is undergoing a great deal of development, yet still offers limited options for residents.
He said that it was difficult finding a location in the area since most property owners are looking to sell their property or develop it.
"We want to be a place in Court Square where residents can come and have a conversation," he said. "It will be a place to hang out and relax."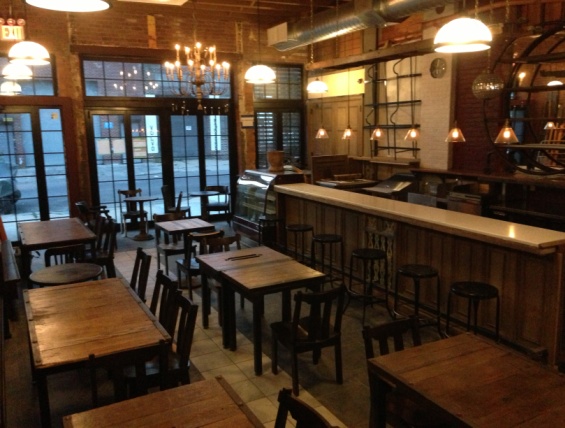 4 Comments
Click for Comments