June 15, 2016 By Michael Florio
Long Island City residents had the opportunity last night to voice their opinions on Mayor Bill de Blasio's $2.5 billion plan to build a streetcar connecting Queens and Brooklyn.
Many residents stated a need for additional transportation to Brooklyn, but questioned whether this streetcar plan – called the Brooklyn Queens Connector (BQX) – is the best option. Some residents also raised concerns about the project's potential impact on local businesses and real estate prices.
Tuesday's meeting, which had about 40 attendees, was one of several "community visioning sessions" on the BQX planned City-wide. Officials from the City Economic Development Corporation laid out what they see as the benefits of the streetcar, which would run from Astoria to Sunset Park, Brooklyn. The EDC estimates that the streetcar would serve 50,000 riders daily and 15 million riders annually.
The plan is to create 30 stops running between Astoria and Sunset Park with each stop about a half-mile apart. There will be about a five- to ten-minute wait between arrivals during peak hours and the streetcar can carry twice as many riders as buses, according to Lydon Sleeper, EDC Senior Vice President of Government and Community Relations.
Sleeper added that the system would connect residents to parts of Brooklyn that are currently difficult to reach.
"We all recognize the need for new transportation options to connect Astoria, LIC and Brooklyn," Liz Lusskin, President of the LIC Partnership, said to open the meeting.
"While this plan is very exciting, it is very important that LIC has a strong voice in shaping this plan," she added.
Attendees were broken into small working groups and then presented their discussions, opinions and concerns to the room.
Patricia Dorfman, an artist and director of the Sunnyside Chamber of Commerce, stated concerns that this new streetcar would lead to even more high rises being built, and then more businesses and residents being priced out of their neighborhood.
"My personal belief is scrap this entire plan and do something that benefits the people of Queens," Dorfman said.
"The artists are going to get thrown out of their buildings," she added. "We're scared. This sounds like gentrification of the coast."
Dorfman said if the City were to go forward with this plan she would want to see it built more inland.
Others weighed the merits of the proposed streetcar against other possible transportation options.
"[Our group] did have discussions about different options, whether it is BQX or restrictive bus service connecting these areas," Community Board 2 member Sheila Lewandowski said. "That would still involve a bridge closer to the water between Greenpoint and LIC to connect those neighborhoods."
"Alternatives could be double-decker buses," Richard Khuzami, Community Board 1 member and President of the Old Astoria Neighborhood Association, said. "It would be up to the designers to get creative, but I think [these buses] would add a much more flexible form of transportation."
Residents were also asked to discuss locations where they believe the streetcar should run to. A popular answer was LaGuardia Airport.
"We would like a connection to LaGuardia Airport," Lewandowski said. "That is an airport going through major reconstruction and it would benefit the community to have a better connection there."
Other suggested locations included LaGuardia Community College, local hospitals, Ikea and important subway stations such as Queens Plaza and a connection at some point with the 7 train.
Attendees were also asked what streets would be best equipped for the streetcar to run along, as well as streets that should be avoided.
Several groups responded with 11th Street, 21st Street, Vernon Boulevard, 12th Street and Jackson Avenue as streets that should be a part of the streetcar route.
However, for other groups, Vernon Blvd and 21st Street were marked as streets to be avoided. Other streets that got a thumbs down were 30th Street and Hunter Street.
LIC residents will have another opportunity to express their opinions on June 23rd at the Queens Public Library (37-44 21st St.) from 6 p.m. to 8 p.m.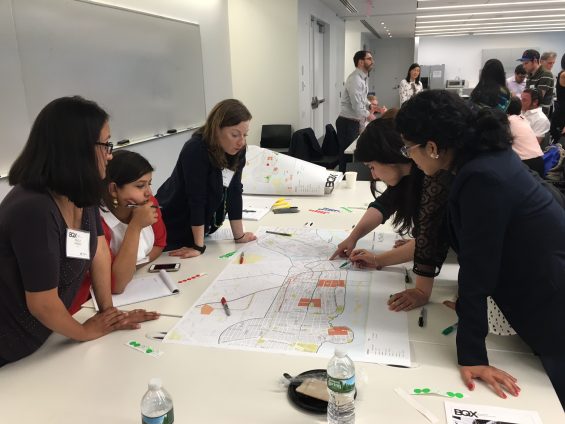 8 Comments
Click for Comments