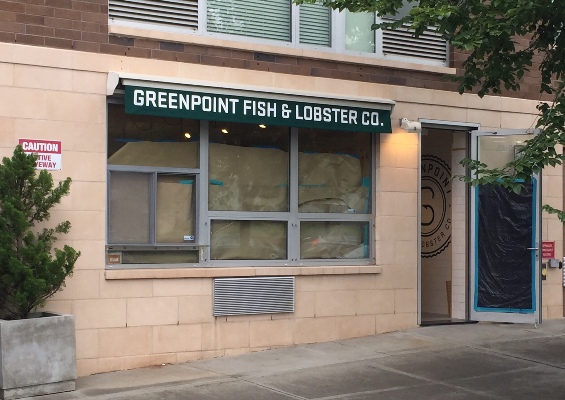 Sept. 1, 2016 By Hannah Wulkan
Owners of a Brooklyn-based seafood company are set to open a new location in Hunters Point tomorrow.
Greenpoint Fish & Lobster Co., which will open its second store tomorrow at 5-43 48th Avenue, will offer a rotating selection of fresh seafood including whole fish, lobsters and mussels, and a range of pre-prepared seafood options.
The market will stock fresh seafood, as well as oven-ready fish options such as stuffed whole fish, and will also have grab-and-go prepared food available. It will not have a restaurant section as its Greenpoint, Brooklyn, headquarters does.
LICPost reported in June that the seafood company was opening at that location.
Co-owner Adam Geringer-Dunn said that he and his business partner Vinny Milburn chose to open up their new fish shop in Hunters Point because Long Island City lacks fresh seafood options.
Additionally, he said, "Long Island City has a nice community vibe, and we like being in a neighborhood where we know our customers and can build relationships."
The new space also has a built in take-out window, Geringer-Dunn said, and they hope to take full advantage of it once the new business gets off the ground. He said that in the coming months the market would likely offer to-go options such as lobster rolls, soups, and salads at the window that people can then take off the premises.
They are hopeful that customers will purchase food at the window and then take it to eat for a picnic in the park.
Geringer-Dunn also said that he eventually hopes to offer after-hours lessons at the new location on subjects such as pairing wine with seafood and oyster shucking.
Greenpoint Fish & Lobster Co. is also known for responsibly sourcing its seafood. "It means that were focusing on seafood harvested in responsible ways, like hook and line fishing as opposed to the giant trawlers that sweep the ocean clean," Geringer-Dunn said. "We do a lot of direct targeting of species, with the fisherman catching what they target, because we're trying to be as conscious of the environment as possible for long-term viability."
The Long Island City location of Greenpoint Fish & Lobster Co. will be open from 10 a.m. to 8 p.m. seven days per week, starting tomorrow. "We're opening just in time for Labor Day weekend," Geringer Dunn said.
21 Comments
Click for Comments